Introduction
In addition to emissions of heat-trapping greenhouse gases from energy, industrial, agricultural, and other activities, humans also affect climate through changes in land use (activities taking place on land, like growing food, cutting trees, or building cities) and land cover (the physical characteristics of the land surface, including grain crops, trees, or concrete).10 For example, cities are warmer than the surrounding countryside because the greater extent of paved areas in cities affects how water and energy are exchanged between the land and the atmosphere. This increases the exposure of urban populations to the effects of extreme heat events. Decisions about land use and land cover can therefore affect, positively or negatively, how much our climate will change and what kind of vulnerabilities humans and natural systems will face as a result.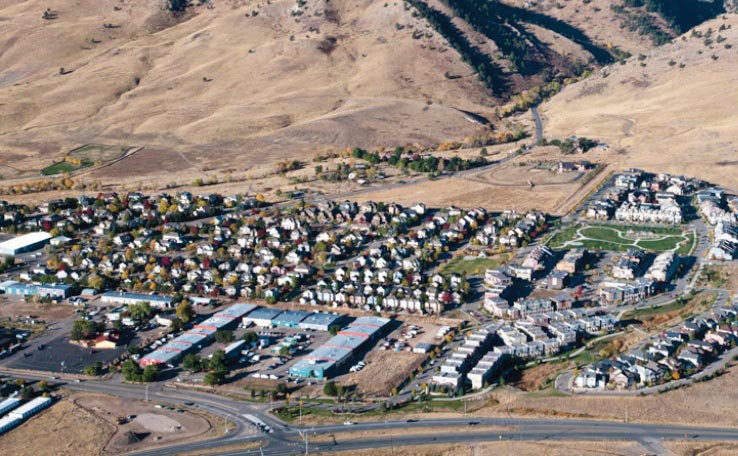 The impacts of changes in land use and land cover cut across all regions and sectors of the National Climate Assessment. Chapters addressing each region discuss land-use and land-cover topics of particular concern to specific regions. Similarly, chapters addressing sectors examine specific land-use matters. In particular, land cover and land use are a major focus for sectors such as agriculture, forests, rural and urban communities, and Native American lands. By contrast, the key messages of this chapter are national in scope and synthesize the findings of other chapters regarding land cover and land use.
Land uses and land covers change over time in response to evolving economic, social, and biophysical conditions.16 Many of these changes are set in motion by individual landowners and land managers and can be quantified from satellite measurements, aerial photographs, on-the-ground observations, and reports from landowners and users.11,2 Over the past few decades, the most prominent land changes within the U.S. have been changes in the amount and kind of forest cover due to logging practices and development in the Southeast and Northwest and to urban expansion in the Northeast and Southwest.
Because humans control land use and, to a large extent, land cover, individuals, businesses, non-profit organizations, and governments can make land decisions to adapt to and/or reduce the effects of climate change. Often the same land-use decision can serve both aims. Adaptation options (those aimed at coping with the effects of climate change) include varying the local mix of vegetation and concrete to reduce heat in cities or elevating homes to reduce exposure to sea level rise or flooding. Land-use and land-cover-related options for mitigating climate change (reducing the speed and amount of climate change) include expanding forests to accelerate removal of carbon from the atmosphere, modifying the way cities are built and organized to reduce energy and motorized transportation demands, and altering agricultural management practices to increase carbon storage in soil.
Despite this range of climate change response options, there are three main reasons why private and public landowners may choose not to modify land uses and land covers for climate adaptation or mitigation purposes. First, land decisions are influenced not only by climate but also by economic, cultural, legal, or other considerations. In many cases, climate-based land-change efforts to adapt to or reduce climate change meet with resistance because current practices are too costly to modify and/or too deeply entrenched in local societies and cultures. Second, certain land uses and land covers are simply difficult to modify, regardless of desire or intent. For instance, the number of homes constructed in floodplains or the amount of irrigated agriculture can be so deeply rooted that they are difficult to change, no matter how much those practices might impede our ability to respond to climate change. Finally, the benefits of land-use decisions made by individual landowners with specific adaptation or mitigation goals do not always accrue to those landowners or even to their communities. Therefore, without some institutional intervention (such as incentives or penalties), the motivations for such decisions can be weak.