Introduction
The Midwest has a population of more than 61 million people (about 20% of the national total) and generates a regional gross domestic product of more than $2.6 trillion (about 19% of the national total).14 The Midwest is home to expansive agricultural lands, forests in the north, the Great Lakes, substantial industrial activity, and major urban areas, including eight of the nation's 50 most populous cities. The region has experienced shifts in population, socioeconomic changes, air and water pollution, and landscape changes, and exhibits multiple vulnerabilities to both climate variability and climate change.
In general, climate change will tend to amplify existing climate-related risks to people, ecosystems, and infrastructure in the Midwest (Ch. 10: Energy, Water, and Land). Direct effects of increased heat stress, flooding, drought, and late spring freezes on natural and managed ecosystems may be multiplied by changes in pests and disease prevalence, increased competition from non-native or opportunistic native species, ecosystem disturbances, land-use change, landscape fragmentation, atmospheric pollutants, and economic shocks such as crop failures or reduced yields due to extreme weather events. These added stresses, when taken collectively, are projected to alter the ecosystem and socioeconomic patterns and processes in ways that most people in the region would consider detrimental. Much of the region's fisheries, recreation, tourism, and commerce depend on the Great Lakes and expansive northern forests, which already face pollution and invasive species pressure that will be exacerbated by climate change.
Most of the region's population lives in cities, which are particularly vulnerable to climate change related flooding and life-threatening heat waves because of aging infrastructure and other factors. Climate change may also augment or intensify other stresses on vegetation encountered in urban environments, including increased atmospheric pollution, heat island effects, a highly variable water cycle, and frequent exposure to new pests and diseases. Some cities in the region are already engaged in the process of capacity building or are actively building resilience to the threats posed by climate change. The region's highly energy-intensive economy emits a disproportionately large amount of the gases responsible for warming the climate (called greenhouse gases or heat-trapping gases). But as discussed below, it also has a large and increasingly realized potential to reduce these emissions.
Figure 18.1: Temperatures are Rising in the Midwest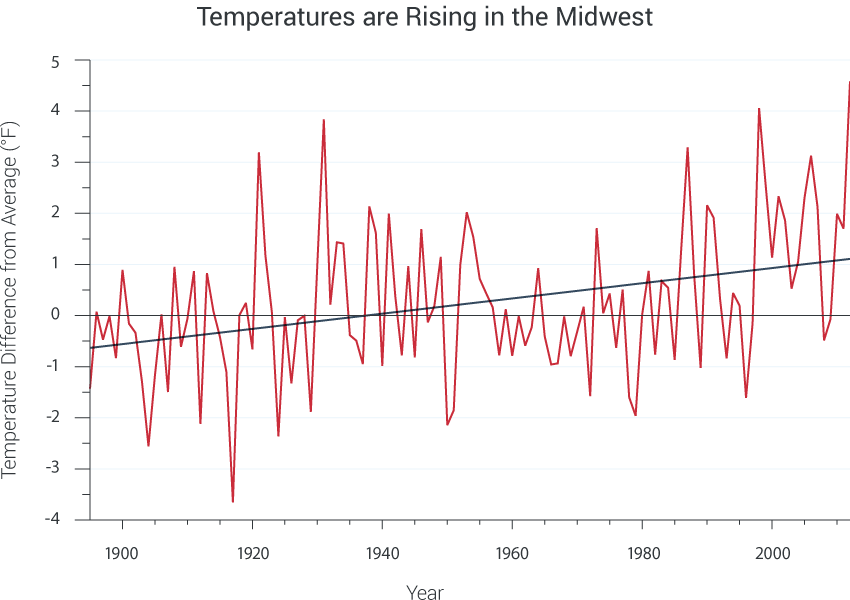 The rate of warming in the Midwest has markedly accelerated over the past few decades. Between 1900 and 2010, the average Midwest air temperature increased by more than 1.5°F (Figure 18.1). However, between 1950 and 2010, the average temperature increased twice as quickly, and between 1980 and 2010, it increased three times as quickly as it did from 1900 to 2010.14 Warming has been more rapid at night and during winter. These trends are consistent with expectations of increased concentrations of heat-trapping gases and observed changes in concentrations of certain particles in the atmosphere.14,114
The amount of future warming will depend on changes in the atmospheric concentration of heat-trapping gases. Projections for regionally averaged temperature increases by the middle of the century (2046-2065) relative to 1979-2000 are approximately 3.8°F for a scenario with substantial emissions reductions (B1) and 4.9°F with continued growth in global emissions (A2). The projections for the end of the century (2081-2100) are approximately 5.6°F for the lower emissions scenario and 8.5°F for the higher emissions scenario (see Ch. 2: Our Changing Climate, Key Message 3).12
In 2011, 11 of the 14 U.S. weather-related disasters with damages of more than $1 billion affected the Midwest.115 Several types of extreme weather events have already increased in frequency and/or intensity due to climate change, and further increases are projected (Ch. 2: Our Changing Climate, Key Message 7).116